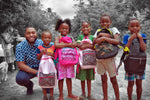 NICK'S SEASONINGS GEARS UP FOR ANNUAL BACK-TO-SCHOOL DRIVE IN JAMAICA
Back for its second staging, Nick's Seasonings 'Back-To-School' drive is set to take place on October 16-18, 2019 in St. Catherine and Kingston, Jamaica.
In keeping with his promise, Nicholas Owen, CEO of Nick's Seasonings announced that he will be amplifying the reach of this year's initiative, " Last year we went to my grandfather's hometown in Sligoville, I'm very excited that this year, we'll also be spreading the back-to-school love in the Maxfield community, where my mom's extended family is from." He said.
This October, Nick's Seasoning's will be providing children from the Maxfield and Sligoville communities with all new school supplies. These items will include school bags, composition books, pencils, and erasers.
RALLYING SUPPORT
Ahead of the 'Back-To-School' initiative, Nick's Seasoning's will be engaging customers in fundraising activities, these will include a 'Day Rave' rooftop party which is slated to take place on September 14, 2019, from 5:00 PM - 10:00 PM at Local 16 (1602 U Street, NW, Washington D.C.). "Good food and great music are the perfect combination for great vibes, patrons can come out and expect to have a good time knowing that through their support, children in Jamaica are going back to school with some new gear." Owen shared.
Donations will also be accepted up until October 15, 2019, by way of the Facebook Donate button below: 
Nick's Seasonings Spreads Back-to-School Love in Family's District, August 2018
Owner of the newly founded, Nick's Seasonings, Nicholas Owen, donated back-to-school supplies recently in his paternal hometown of St. Richard Hall District, Sligoville, St. Catherine.

There's an old saying that goes, "in order to know where you are going, you must remember where you are coming from." For 31-year-old, Nicholas Owen, this meant bringing joy to his grandfather's hometown, by treating the children to school supplies.

Faces glowing with excitement, the children of St. Richard's Hall, a small district in Sligoville, St.Catherine, queued eagerly to receive their back-to-school supplies. Each child present received a backpack, filled with pencils, crayons, notebooks, and a stationary case.

Sharing on the importance of giving back to the community, Owen said, "I've spent most of my childhood summers here in Jamaica, and made some of my greatest memories, being able to give back means a lot. I also see my younger self in all of these children. I hope these school supplies will help to ease some of the back-to-school costs off their parents."
Grandmother of two, Michelle Russell, in expressing her gratitude, shared, "I appreciate this so much, and it will really help me to get them ready for school in September, my grandkids and I are very grateful."
Announcing plans of making the donation an annual installment, Owen said, "I am very passionate about education, I think it's very important that children are fully equipped to learn in school. I definitely plan on following up on this, bigger and bigger each year. I want to give back as much as I can, no matter how small my company is or how big it gets, I will always remember where I'm from."
-END-
About Nick's Seasoning
Founded by a food enthusiast, Nicholas Owen, Nick's Seasonings aims to bring a truly Jamaican flavor to meals worldwide. Nick's Seasonings is based in Washington, D.C. and was established in May 2018. Each bottle of Nick's Seasonings contains the perfect blend of spices and herbs expertly combined to bring out the flavors needed to transform any meal.