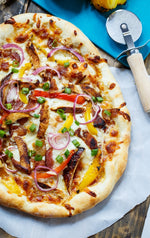 Ingredients
Sauce
1/2 cup light brown sugar

1/4 cup water

1/4 cup ketchup

1/4 cup light corn syrup

1/4 cup minced onion

2 tablespoons red wine vinegar

1 teaspoon minced garlic

1 teaspoon lemon juice

1/2 teaspoon salt

1/2 teaspoon crushed red pepper flakes

1/4 teaspoon black pepper

1/8 teaspoon dried thyme

1/8 teaspoon ground allspice
Jerk Seasoning
1/2 cup of Nick's Jerk Seasoning
Remaining Ingredients
olive oil

2 chicken breasts, pounded thin

1 red bell pepper

1 yellow bell pepper

1 pound pizza dough

2-3 cups shredded mozzarelle cheese

4 slices bacon, cooked

1/2 cup thinly sliced onion, yellow or red

1 green onion, sliced
Instructions
To make sauce, combine all ingredients in a medium saucepan. Simmer for 6 to 8 minutes. Let cool and then puree in a blender. (Sauce can be made a day in advance.)
In a small bowl, combine jerk seasoning with chicken breasts and drizzle with olive oil.
Grill chicken for 4 to 5 minutes per side, or cook in a pan over medium heat. Let cool and then thinly slice.
Roast both peppers by setting them directly over the flame of a gas burner. Turn every few minutes until all sides are charred. Plunge them into ice water and remove the skins. Slice into thin slices. Alternately, you can roast the peppers in a 450 degree oven for 45 minutes.
Divide dough in half. Making 1 pizza at a time, roll or stretch dough into a 10-inch circle. Place on a lightly floured pizza pan or pizza peel. 
Brush the dough with olive oil. Spread desired amount of sauce on dough. Sprinkle with 1 cup mozzarella cheese and half of all toppings. Sprinkle with a little more mozzarella cheese.
Slide pizza onto pizza stone and bake until crust is golden, about 9 to 10 minutes.

Recipe Notes
Let the pizza dough sit at room temperature for 1 hour before shaping it.
Preheat the oven to 500 degrees with a pizza stone in it for 45 minutes.
Recipe adapted from here