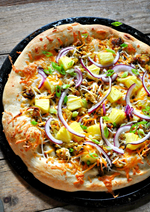 Ingredients
Jerk Seasoning
1/2 cup of Nick's Jerk Seasoning
For the Pizza
8 oz. Tempeh
2 Tbsp. Olive oil, divided 1/4 cup of Nick's Jerk Seasoning
1/3 C. Pineapple, chopped
1/4 C. Red onion sliced
1 C. Vegan cheese, I used Follow your heart
16 oz. (1lb) Vegan pizza dough, I used Trader Joe's
Instructions
Now, heat 1 tablespoon of olive oil in a non stick skillet on medium high. Then crumble the tempeh into the skillet. Break up any large pieces of tempeh so it looks like sausage crumbles. 

Brown the tempeh crumbles in the skillet, reducing heat as needed, tossing the crumbles until they are completely brown. This may take 5-10 minutes. 

Then, pour the jerk seasoning into the skillet with the tempeh crumbles and toss to coat. Reduce heat to low and saute for another minute. Then remove from heat. 

Preheat the oven to 450 degrees. 

Next, roll the pizza dough out on a floured surface to your desired thickness. Then place on a pizza pan that has been sprayed with non stick spray. 

Brush the remaining 1 tablespoon of olive oil on top of the pizza. Then sprinkle half the vegan cheese on top. Then the jerk tempeh crumbles, then the rest of the cheese, then the pineapple and red onion. 

Bake the pizza at 450 degrees for 8-10 minutes or until the pizza is brown and cooked all the way through. Serve! 

Recipe Notes
Let the pizza dough sit at room temperature for 1 hour before shaping it.
Preheat the oven to 500 degrees with a pizza stone in it for 45 minutes.
Recipe adapted from here.