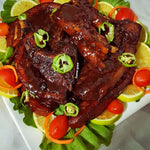 Ingredients:
3lbs of pork ribs wash in lime and vinegar cleaning of all excess fat, skin, and slime. Put to drain and season with 1teaspoon of Maggie all-purpose
1teaspoon of Maggie chicken
1 teaspoon cinnamon powder
1 teaspoon of special jerk powder season 
1 teaspoon of ginger powder
1/2 teaspoon of cayenne pepper
1 teaspoon of paprika
1 teaspoon of pimento powder or crush pimento
1 teaspoon of thyme chopped fine
1 teaspoon of diced garlic
2 small peppers diced up.
1/2 teaspoon of browning.
Instructions:
Pour all the above INGREDIENTS on the meat and marinade and let it soak for at least 3 hours.
Then place in the baking pan covers with foil tightly and bake on 200 degrees for 1 hour and 45 minutes. Checking on them after the first hour and turning on each side.

Sauce. INGREDIENTS 
2 and 1 lemon orange squeezed 
1cup ketchup 
1teaspoon of Mango Chutney 
2 tablespoons of maple syrup 
1 teaspoon Maggie all-purpose and chicken powder season 
Half teaspoon browning 
2 tablespoons of sugar 
4 tablespoons of barbeque sauce 
4 tablespoon red wine 
1teapoon dried parsley 
1table spoon honey.

Put orange and lemon juice in a pot boil and all ingredients in it and boil for about 20 minutes until thick.

Use the sauce to cover the ribs on both sides and place back in the oven for about 20 minutes finish bake remove from oven cool and then share.