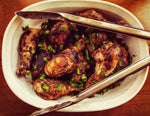 Ingredients:
2 pounds organic pasture raised chicken drumsticks.
3/4 cup

 

Nick's Jerk Seasoning.
2 green onions chopped finely.
Instructions:
Marinate all chicken in 3/4 cup of jerk seasoning. Coat chicken evenly with seasoning using your hands.
Place chicken in the refrigerator and marinate for 12-24 hours.
Once the chicken has finished marinating, preheat oven to 425 degrees F.
Place chicken on a baking sheet with aluminum foil or parchment paper. 
Bake chicken for 25 minutes, then flip each piece of chicken over to the other side. 
Put chicken back in the oven for another 15 minutes.
Change oven settings to broil on high. Broil chicken on the top rack for 2-3 minutes.
Remove from oven and sprinkle chopped green onions on top.
Serve hot with red cauliflower rice, plantains, greens, or any other side of your choice!
By Shivangi Khargonekar of www.raodyrecipes.com