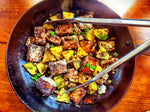 Ingredients:
1 tbsp refined coconut oil (or cooking oil of choice that can handle high heat)
1package of extra firm sprouted tofu
Chopped pineapple (about 15 pieces or so)
2 green onions chopped
1/2 cup of

 

Nick's Jerk Seasoning
Instructions:
Chop tofu into 1-inch cubes.
Coat tofu in 1/2 cup of jerk seasoning. Marinate tofu in seasoning for 6-12 hours.
Once tofu is done marinating, heat a large skillet or cast iron skillet on medium heat. 
Place oil on the pan and let it coat evenly.
Place cubes of tofu on the pan with some space in between each piece. Add pineapple in between tofu pieces on pan. Everything should have enough room so that it sits on the pan.
Using tongs, flip the tofu and pineapple over after 5-6 minutes (they should be browned before you flip). 
Let the other side cook for another 5-6 minutes. Keep flipping intermittently after that so that pineapples caramelize and tofu becomes browned and crispy on the outside.
Sprinkle chopped green onions on top of everything. Serve hot with some red beans & rice, greens, plantains, or any other side of your choice!
By Shivangi Khargonekar of www.raodyrecipes.com